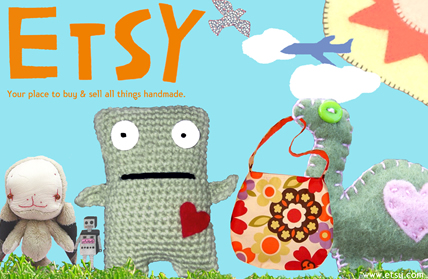 Now that I've recovered from the stress and worldwind of constant inspiration
I can focus on something that's very close to my heart, my Etsy shop.
It's something I've wanted to do for a while now and I have three months off this summer
so I have plenty of time to get my shop up and running.
If you don't know about Etsy, it's a website that allows you to buy and sell, handmade, vinatge,
artwork ranging from accessories to recycled clothing. It's a really eco-friendly website and
perfect for crafty and talented people who love making. Also as we're in a recession,
buying and selling products on Etsy is a great way to help each other out.
So take some time out and explore the handmade world of Etsy.

For my shop I will focus on small products to start of with,
so little purses, bags, small jewellery. Sweet llittle gifts that everyone will enjoy.
And then when it gets more popular (i hope). I'll try making some clothing.